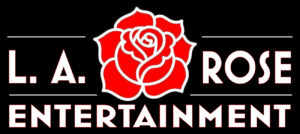 ************************************************************
COVID-19 UPDATE: We are now booking events for 2021. Dates for 2020 must remain flexible in these ever-changing and trying times, as most venues are still closed.
Please support live music by purchasing songs from your favorite artists and viewing their live stream events. Without the ability to perform live, many artists and their support staff have been greatly financially impacted by the cancellation of their events.
Thank you for your support. You mean more to us than you'll ever know. Stay safe. Spread love, not the virus; wear your mask. We'll see you soon!

************************************************************
Welcome to L. A. Rose Entertainment.  We offer management, promotional, booking and brand-enhancement services.  We also own L. A. Rose Music, a record label for up-and-coming and established recording artists.  We are here to help you achieve your professional goals.  Success is just a phone call away.
If you need top-notch entertainment, we have bands, musicians, singers and other artists to suit every occasion.
Formerly from Hollywood, we are now located in Little Rock, Arkansas, but offer services nationwide.
Join our mailing list or "Like" us on Facebook for the latest news and upcoming event notices. (Your information will never be shared and you can unsubscribe at any time.)
(Please don't use this sign up link form for spam promotion. You will be blocked and reported.)