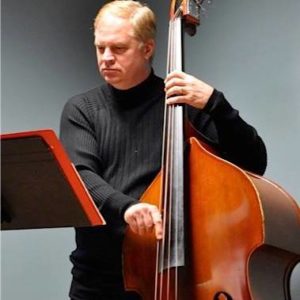 David Higginbotham is one of central Arkansas' most renowned upright bassists and vocalists. While still in high school he toured with the rock band Gibraltar and played shows with Pat Benatar, Pure Prairie League, The Guess Who and Styx.  David has been a member of the Bob Boyd Sounds, for more than two decades.  David has performed for many touring Broadway shows such as Wicked, Phantom of the Opera, Chicago, and Beautiful: The Carol King Musical.
In 2018 David released a wonderful CD, Blues on the Corner.  This CD is a a collection of jazz standards with vocals and original lyrics to titles like "Blues on the Corner", "Doxy" and "Scrapple from the Apple".  The album also features other jazz virtuosos including Brian Brown, Brandon Dorris, Sim Flora, Chris Parker, Clyde Pound, and Paul Stivitts.
L. A. Rose Entertainment was proud to assist with the CD release party that was held at South on Main in Little Rock, AR. Here are some photos from that enjoyable event. David's CD was very well received and fans eagerly purchased their own autographed copies.
Blues on the Corner is David's second recording as a leader, following his solo release debut, This is my Heart (2008), on which he wrote the songs, played all of the instruments and sang all of the vocal parts.
For more information, promotional requests or to set up an interview, please contact David Higginbotham at 501-837-6354 or visit his website at http://davidsounds.com/.