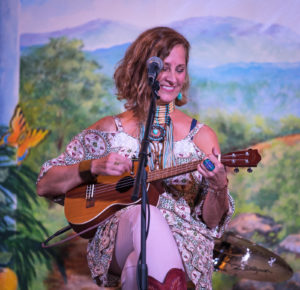 Laura Lynn Danley is a very talented singer, songwriter and one-half of the accomplished duo, along with Justin Patterson, known as Ten Penny Gypsy.
Laura's songs are insightful, soulful and capture everything from waves by the sea to a field of flowers.  Her voice is as clear as a bell and soft as a whisper.  She and Justin complement one another beautifully.
Laura and Justin burst onto the music scene and took off like a runaway train.  Laura and Justin's self-titled debut album, Ten Penny Gypsy, released in 2017 was nominated in three separate categories by the 2018 Central Arkansas Music Awards.  They were  semi-finalists in the 2018 Arkansas Times Musicians' Showcase.  Laura and Justin were also finalists and performers at the 2018 Arkansas Country Music Awards.
If you haven't heard this duo, you're missing something special.
For booking or more information, please visit Ten Penny Gypsy.