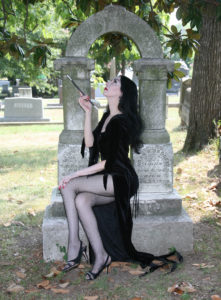 Evelle LeChat  is the hostess of the Night-Frights Classic Horror Movies with Evelle TV show that has been bringing horror fans classic horror movies since 2007.
Evelle was born into a family of entertainers and has been gracing stages since early childhood. Those decades of experience have created a consummate professional. Evelle is one of those "triple threats" as she is not just an actress, but is also a talented singer and dancer. Additionally, Evelle is an author and ghost writer for several industry sites.
Evelle was the winner of the national Vampira look-alike contest that was conducted by HorrorHound magazine and was resurrected and crowned "The New Vampira". Evelle is the reigning Vampira since the death of Maila Nurmi, the creator of the original Vampira character.  Evelle is also frequently called upon as a Morticia look-alike. If you want your next horror convention, haunted house, or gothic event to be extra creepy, Evelle is your girl. Be warned, though, as Evelle's blood-curdling scream has been known to break glass!
Evelle's Octobers book up months or even years in advance, so don't wait on booking this talented artist. Evelle performs with the Monster Morphis band during the Halloween season. Evelle also organizes zombie walks, vampire balls, horror conventions and other creepy events.
For booking information, send an email to Evelle LeChat.